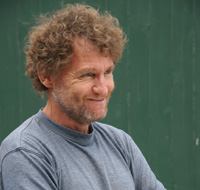 Wild nature combines with artistry and design in the work of David Trubridge. Derived from the structure and patterns of nature and a deep passion for the landscape, his original designs are contemporary with a sophisticated flavor of the South Pacific. He aims to be as sensitive to the environment as possible throughout the design process, and to imbue that sense of care within the objects he creates. The results are authentic and enduring, achieving maximum effect with minimum materials.
David Trubridge graduated from Newcastle University in Northern England in 1972 with a degree in Naval Architecture (boat design). While living in rural Northumberland he taught himself furniture making, developing his own designs.
In 1981 David and his family sold everything they had, bought a yacht and set out on an open ended adventure around the world. For five years they sailed through the Caribbean and Pacific, arriving in New Zealand's Bay of Islands in 1985, where David started to make furniture influenced by their Pacific travels. Later he developed a series of works derived from the East Coast landscape and its fractured friable rocks. At Salone Satellite in the 2001 Milan Furniture Fair, David's Body Raft was picked up for manufacture by Cappellini. This was the start of a change in David's fortunes, life style and business model - from local designer/maker to an internationally known designer running his own design and manufacturing business with sales all over the world.
For years David's designs have been chosen as "best things to see" and "best of the year" at the world's most prestigious design fairs. He has been voted as one of the top designers in the world and his work has been identified as internationally trendsetting in a new form of "raw sophistication". His work has been used in shop displays supporting fashion designers Kate Moss in London's Top Shop, Stella McCartney in Printemps Paris, and on the catwalk at Milan fashion week. It can be seen in luxury resorts as well as in bars, restaurants, airports, and company foyers around the world, even the Swedish Stock Exchange.